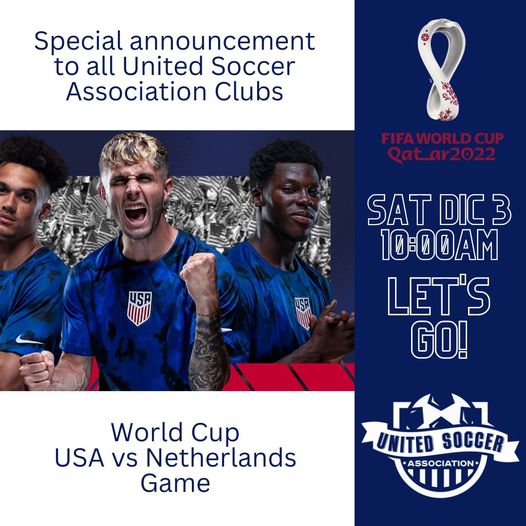 To all playing members of the United Soccer Association –Club officials, team managers, coaches and referees:
At about 4 PM on Tuesday November 29, all of the soccer enthusiasts who follow our Men's National Soccer Team learned that the USMNT would be playing in the World Cup knock out round of 16 an event that has not happened in over 12 years …Naturally we realize that some referees, youth soccer coaches, youth soccer players and their parents who are fans, may wish to watch this event in real time at 10 AM on Saturday .
One of the benefits of being a member of USA is that we are member owned and our board is directly elected by its members. We understand that more than a few other leagues who have matches scheduled to be played on Saturday have refused to allow its teams to reschedule their matches citing losing money, league owners nor wishing to do the massive amount of work rescheduling games and referees –
We polled our board of directors and USA has decided to allow teams to reschedule matches without fines if you feel that it is more important to see the USMNT v Netherland in real time than attending scheduled youth soccer match this Saturday. When considering this there are a few ground rules for this dispensation so that we can limit the chaos that this could create:
1- If at all possible, please play the match… many of us can record and watch the match a bit later in the day.
2- You must contact your opponent about reschedule request in chat room in Got Soccer so there is a public record of your agreement IF OPPONENT CANNOT OR WILL NOT AGREE TO RESCHEDULE game is assumed to still be scheduled and if teams do not show it will be considered a forfeit and an appropriate fine will be imposed.
3- The reschedule should be done within 7 days (Dec 9) of Saturday's date (Dec 2).
4- You both agree to pay one half of the center referees fee for the match —The referees have all been scheduled and it would be too late for them to get another match to fill in, therefore they should get paid. Send USA the money through the app and we will pay the referees when we receive your payment – please notate game number.
5- Avoid just changing the time of your match UNLESS you or your club assignor can get certified age-appropriate referee to do the center —it will be impossible for our assignors to communicate to the referees about time changes on Friday –
This could cause no end of work for our clerical team and some confusion for all, but we are willing to attempt to accommodate our members regarding this world soccer event.
Paul Vansteenbergen, President
United Soccer Association